Airstream Adventures
Airstream Adventures
Closing out our summer camping adventure, we were to be in Charleston SC eating at nationally acclaimed restaurants and playing tourist. Instead, we spent 6 nights in Rocky Mount, NC following an unfortunate experience. Driving 65 mph on I-95 we had a wheel of our Airstream camper trailer fly off, sailing into the median.
Thank goodness there were no injuries. We hobbled to a nearby hotel, parked the truck/trailer, and checked in. The next day was spent looking for a tow truck and researching how this could have happened. For two days we were promised a tow but alas none ever appeared. Finally, Steve contacted a local big rig repair company and an angel appeared. Dale Womble of Mangum's repair came to our rescue trying to help, but by 5pm on Friday, no parts were available anywhere.
Steve then called a random Drexel parts dealer in Denver (2 hours earlier than us, how clever!) and they shipped everything we needed to Dale's HOME address so we could have a guaranteed delivery first thing Monday morning. Now we had a weekend in Rocky Mount without wheels.
So, instead of eating at Hanks in Charleston on Friday night, we walked a mile to LouRedas American Table in Rocky Mount.
Turns out their Chef Justin Gaines, is well-known for his stints on the Food Network's Beat Bobby Flay and Chopped. The food was delicious, the ambiance was eating at their neighbor Dunkin Doughnut's outside table. Most delightful was our waitperson Wendy, another angel of Rocky Mount, NC.
Wendy treated our hot, frustrated sweaty selves like honored guests. LouReda's and Wendy lifted our spirits and our tummies were satisfied. But our feet…walking back at 9:30pm was a dreaded option but sweet Wendy came to the rescue. She appeared in her Toyota and drove us back to the hotel inviting us to return for brunch on Saturday. Which we happily did to enjoy jalapeño bacon and "real French" toast, made with croissants. Well worth the 2-mile round trip walk in 95-degree weather.
Sunday we took the only cab in Rocky Mount (no, Uber there) to the "Mill" for breakfast at Books and Beans owned by the NYT bestselling author Etaf Rum. Don't mistake this one for the Books and Beans in the UK like I did, expecting "10,000 books on the first floor…". What a surprise to arrive to discover Rocky Mount's Books and Beans had at least 100 books on their only floor…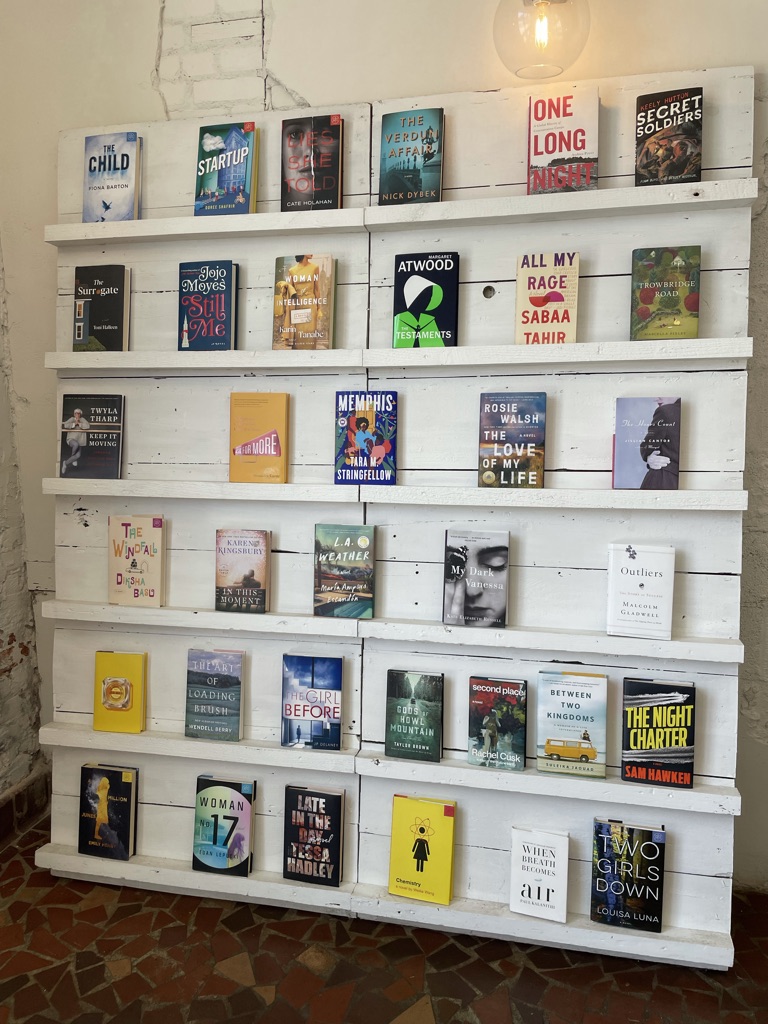 Monday arrived and the parts were delivered to Dales' home, and his sweet son delivered them to our trailer. However, the mechanic was not available to do the repair till 5pm…by the time he did the work, we test drove the rig, the brakes were in need of adjustment and another repair person arrived (Mr. Boomer…use your imagination) we had another night at the Doubletree for us.
We discovered several things during our detour to Rocky Mount:
There are good people all around, look for them
It's OK to ask for and accept help
Stay open to the wonders of wherever you are
It's easy to stay positive when things are going well, staying positive and hopeful when calamity happens takes focus and attention
Go with the flow and give up trying to control the outcome, just enjoy the moment
Trust and believe things WILL work out even if we don't know how or when
Keep your sense of humor, no matter what, (while sitting in the parking lot when we first broke down, a song by the Lumineers came on: "Where We Are, I Don't Know Where We Are But It'll Be OK…"
Will we get back on the road again? You bet!
I hope you have a wonderful close out to summer, stay safe, have fun and don't forget, no matter where you are, it'll be OK!
Love and Light,